I've had the pleasure of traveling to over 50 countries during my life, a series of experiences that has massively shaped who I am, what I value, and how I live. I plan to write more about this over the coming year, but for the moment, I'll just share a snippet of one of my more intense travel experiences, my 4-Year travel odyssey through eastern and southern Africa and the Indian Ocean islands from 1994-1997.
I first went to Africa in 1994 when I was an exchange student at the University of Zimbabwe (through a California State University program). At UZ, I studied the Shona Language and Culture, African Literature, Literary Theory, and Political Theology. That year at UZ was a fantastic learning experience; I had such a great time that I decided to stay in the country as long as I could. So I became a teacher at a ritzy high school, St. George's College, right next door the president's house. That gig lasted only 6 months, though, as the immigration officials did not deem that I had absolutely necessary skills for the country. Damn them!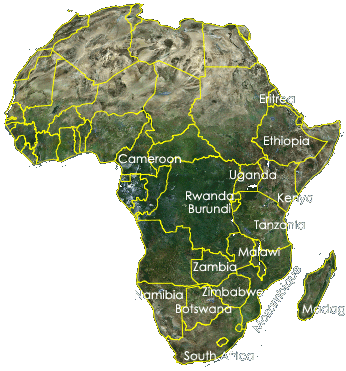 So I strapped on my backpack and traveled the length and breadth of eastern and southern Africa, plus the Indian Ocean islands. The map to the right shows the countries I visited during that 4-year odyssey. Since then, I've spent another 6 years in South Africa, the last 4 married to my wife Marjorie, who I met in Cape Town during my first trip.
Traveling to Africa in My Formative Years
I turned 21 years-old on the day that I flew to Zimbabwe as an exchange student. I ate my birthday cake on the way to LAX airport, a memorable way to start what became a life-changing journey. My desire at the time was to merely expand my cultural horizons, add Africa to the list of places I'd visited. But then the trip became an end in itself as I was fortunate enough to have the time to take it all in.
Because I was in my early 20s, and the journey lasted 4 years, that experience became life-defining in so many ways. Through my travels, I laid the foundation for my career as a scholar of African history, created the basis for many life-long friendships, and even met my future wife, Marjorie. I'm already deeply nostalgic about those good old days.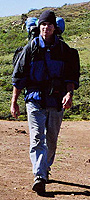 Traveling : Buses, Trains, Trucks & Planes
My credo as a backpacking vagabond was to always travel by the cheapest form of public transport, no matter how inconvenient or slow. Often, that meant taking buses with the rest of humanity and other winged or hoofed species. Or boarding slow trains for an overnight run to the next province. Or hitching a lift with a truck convoy heading across a lunar-landscaped Chalbi Desert in northern Kenya. Or stowing away in turbo-props, bumping around the airstrips of Ethiopia. Or braving deck exposure for a night-ferry across Lake Victoria in Tanzania. Or bumping mercilessly across the ruts and gullies of Madagascar's "road" network. Or…or…or…the stories are endless. But usually, buses, mini-buses and "bush taxis" got me where I needed. And in my early twenties, it was all something of an adventure.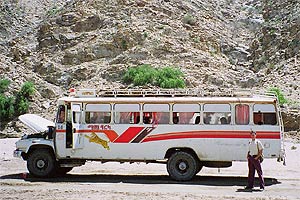 The same went for accommodation. If Lonely Planet said it was 10 cents cheaper per night at a rat-infested cockroach brothel than the Glitzy Hilton across the street, then by-golly, I got cosy with the rats and the roaches. It often meant staying near the city bus station where there were lots of cheap lodging or some backpacker flea-pit recommended by the guide book. Quite often I found myself at lodges for locals (not in the backpacker guides) or with families who invited me to stay with them (having met me on the bus or airplane coming into town). Sometimes I even pitched my tent or merely slept on the floor of the bus station. I can remember almost every place that I stayed on my journey, and even many of my transport experiences: they were all unique and memorable in some way.
A Literary Journey
It was not my intention when I started to travel so long on the continent. But one bus ride turned into a second, two months turned into three. And before long, I was racking up serious mileage and scores of passport stamps. Besides the sheer joy of discovery that comes with traveling, I gave myself an intellectual project to pursue. As a literature major at university, I enjoyed reading African literature, so I decided to make these works central to my travels. In every country that I visited, I bought as many books as possible by writers from that country. In some cases I was able to be almost comprehensive with my readings.
These works allowed me to think about the histories and cultures of the people I was encountering in a rich and meaningful way at the very time that I was meeting them personally. I sometime went out of my way to visit regions based solely on the way literature had piqued my interest: as when I ventured to Gulu in the Acholi region of Uganda, where so many fine poets come from (as well as the scary Lord's Resistance Army). This project added a whole new dimension to my travels and to my understanding of Africa.
By the end of my journey, I read over 300 works of African literature along with another 100 books on history, culture, politics, and economics, averaging almost 10 books per month.
In Retrospect: What the trip means to me now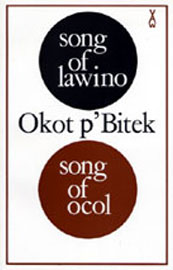 This 4-year trip through Africa was a once-in-a-lifetime opportunity. It's true that I've also traveled a lot elsewhere, but most of those were shorter jaunts, rarely exceeding 3 months per trip. Today, given my commitments in marriage and work, the opportunity for another such journey is remote. I foresee many travels in the future—as a researcher, with my wife, with my daughter—but these will be of the shorter variety. Weeks and months, not years. I feel fortunate that I was able to do such a trip when I did.
But this trip to the continent rewrote my life trajectory. Through it, I found my soul-mate and my career focus on African history. It was easily one of the most profound experiences of my life.